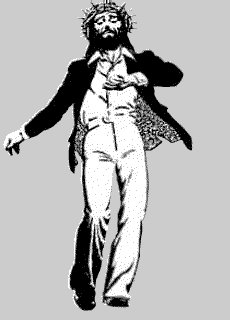 Had an interesting comment on my blog today from an old post I wrote about
christian clubbing
here it is:
"Great ANother Blog post giving young christians a great excuse to go clubbing, i guess what you talk about and waht you think about most really just shows the deepest desires of your heart. Im not saying christians CANT go clubbing, but what i am saying is theres far much more greater things in store with Gods plan for your life.

Romans 13:14 (ESV) - But put on the Lord Jesus Christ, and make no provision for the flesh
Eph 5:3 - But among you there must not be even a hint of sexual immorality, or of any kind of impurity, or of greed, because these are improper for God's holy people.

Now i think theres more than a hint of sexual immorality in clubs... Lets not be deceived and fool ourselves. Why are we drinking piss water from the toilet when Jesus promised us A well of water flowing into eternal life in him... We can be great evangelists outside of the evil world systems which are controlled by Satan:

Hebrews 12:2 "Let us fix our eyes on Jesus" some of us cant get passed worshipping the DJ and the music... "
Thank you for your contribution to the debate anonymous. I must admit I can see were you are coming from but I totally disagree with you. Why was Jesus accused of being a
"drunkard and a glutton"
? Was it the company he kept, the places he went, the people he was seen with, I think so.
I want to write more but I haven't got the energy, only to say really if you have had a bad experience with clubbing yourself, please don't make us all pay by trying to tell us to stay out of the darkness or the light.
God is with us, He will go where we go and I am pretty sure Jesus would have loved clubbing. I can picture him now glow stick in hand, arms raised high grinding his body to some cool beats and giving it all up to God the creator who made life to be celebrated and music to be danced to.